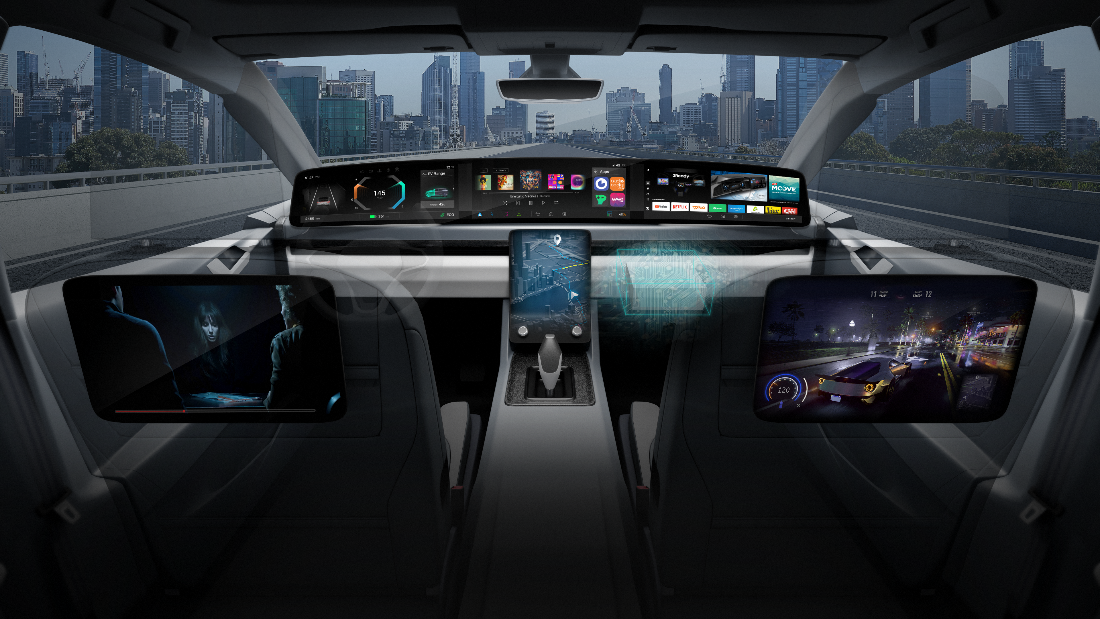 Seamlessly integrated and optimized digital cockpit systems including two CES Innovation Award winners
Scalable cockpit platforms complete with end-to-end connected services
Technologies providing safer, convenient, immersive in-vehicle experience

LAS VEGAS, Jan. 05, 2023 (GLOBE NEWSWIRE) -- Visteon (NASDAQ: VC), a global technology company serving the mobility industry, will showcase a range of digital cockpit technologies during CES that enable automakers to create safer, connected and more convenient driving experiences.
As automobiles continue their evolution towards electrified, connected, software-defined vehicles, Visteon has continued to align its technologies to those trends particularly with digital cockpit technologies. As part of this alignment, Visteon has sought to create complete cockpit solutions by utilizing latest silicon technologies, integration of vision features, enabling the digitization of the automobile.
"Vehicles and mobility are rapidly changing, and Visteon is developing the technology that will allow automakers to create exciting and compelling in-vehicle experience," said Sachin Lawande, President and CEO, Visteon. "Visteon's award-winning cockpit technologies are developed holistically, enabling automakers to provide comprehensive set of differentiated features while accelerating time to market."
This method of holistic development of all of Visteon's technologies – high-performance display solutions, high-performance cockpit electronics and connected services – enable turnkey solutions for all mass markets and premium vehicles.
Visteon's display solutions create an immersive user experience, incorporating consumer technologies, active privacy and sunlight readability, all while drawing very low power. These features come to life in two Visteon digital cockpit platforms, the Lightscape® Panorama Display and the Command & Control Display, which each captured a 2023 CES Innovation Award.
Visteon's digital cockpit solutions on display during CES include:
Lightscape® Panorama Display is an advanced pillar-to-pillar, multi-display which includes numerous Visteon technology solutions that enable superior image quality and interaction
Command & Control Display is a driver-centric, technology-forward dash display that blends the lower display into the surrounding materials when the display is inactive. It wakes into a fully reconfigurable surface on the approach of a user's hand
One Watt Display delivers enhanced perceptual quality of displays with dramatic power savings
Active Privacy limits driver distractions from passenger cockpit content, is compatible for system-level approaches for managing content and is scalable to any size, aspect ratio or resolution
TrueColor Image Enhancement dynamically adjusts screen images to improve image quality, overcoming brightness and glare to improve the legibility of safety information
SmartCore cockpit platform architecture represents a shift in electric vehicle architecture to a computing platform, with applications from entry-level to high-end cockpit design with multiple silicon choices
SmartCore Gen 4 cockpit comes with driver and surround view monitoring for increased safety, adaptive and personalized user interface, multi-display entertainment and gaming, AI based voice assistant, augmented reality navigation and many more compelling features
AllGo Connected Services offer a suite of cloud based software services including over the air update, subscription management and Automotive App Store
Visteon's exhibit is located at the Paris Hotel Convention Center.
Ongoing updates for Visteon are available through its social media channels on Facebook, LinkedIn and Twitter.
About Visteon
Visteon is a global technology company serving the mobility industry, dedicated to creating a more enjoyable, connected and safe driving experience. The company's platforms leverage proven, scalable hardware and software solutions that enable the digital, electric, and autonomous evolution of global automotive customers. Visteon products align with key industry trends and include digital instrument clusters, displays, Android-based infotainment systems, domain controllers, advanced driver assistance systems and electrification. The company is headquartered in Van Buren Township, Michigan, and has approximately 10,000 employees at more than 40 facilities in 16 countries. Visteon reported approximately $2.8 billion in sales and booked $5.1 billion of new business in 2021. Learn more at https://visteon.com/.
Media Inquiries
Media@Visteon.com
Kris Doyle
Investor Relations
kdoyle@visteon.com
+1 201-247-3050
A photo accompanying this announcement is available at https://www.globenewswire.com/NewsRoom/AttachmentNg/fdc63e0f-a455-45c2-a530-709fd6d1a14b